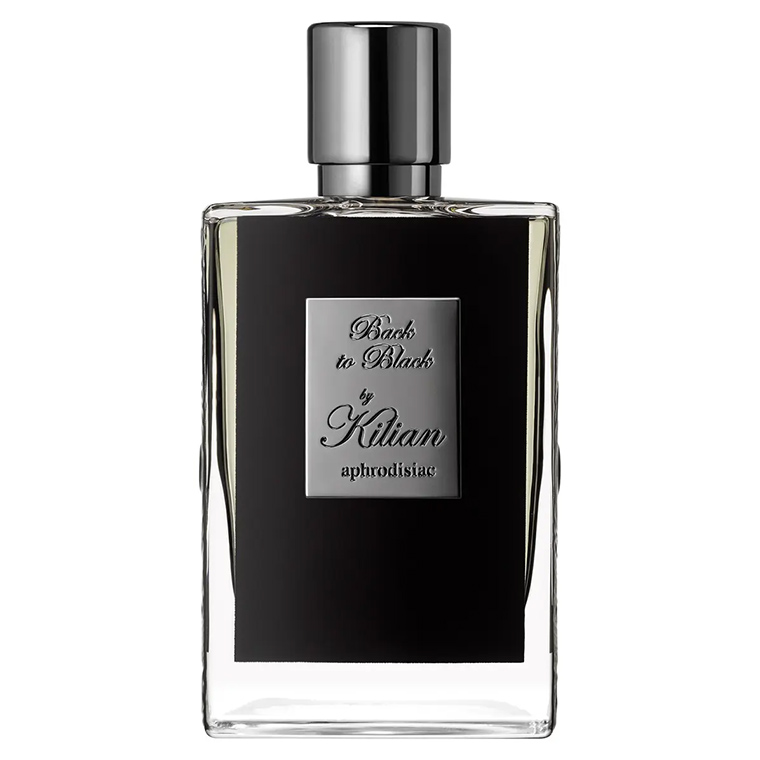 By Kilian Back to Black Eau de Parfum is categorized as a "gourmand tobacco harmony" by the brand with "languid honey" that has "sweet spices" and "smoky incense essence" with "vanilla absolute." While the opening was a burst of raspberry liqueur, the majority of the wear lived in a warm and cozy cloud of cherry and almond that eventually sweetened further with vanilla and often retained depth from the inclusion of honey in the heart and then later on amber in the drydown.
top notes: bergamot, cardamom, coriander seed, raspberry, blue chamomile
heart notes: honey, olibanum, atlas cedarwood, vetiver, patchouli, moss
base: tobacco, amber, cistus labdanum, almond, vanilla
Back to Black opened with a drenching of the best of raspberries–the perfect, in-season raspberry that was juicy, deliciously sweet with a hint of tartness as a end flourish–with a touch of bergamot. The honey made its way into the composition so that it felt like a lush raspberry sauce drizzled over a dripping honeycomb.
Twenty minutes later, the distinction of raspberry was wasn't as clear, and the fragrance reminded me more of syrupy cherries and almonds. That sweet cherry-almond phase strengthened and continued as the primary facets of Back to Black two hours into wear.
It ended up being a more linear scent as the drydown wasn't that different from the time after the opening and hours later. After eight hours of wear, it had moderate projection, little sillage, and was defined as a fruity, honeyed amber with the most minute about of tobacco. From further away, the tobacco was more of a suggestion than when I smelled near my skin, where it was really quite dominated by sweet cherries, almond and vanilla, and honeyed depth.
For testing, I had a 1ml dab vial sample, which was applied to the underside and topside of my wrist area on my left arm using half of the vial. I use an unscented moisturizer prior to applying the scent as this is also my swatching arm (aka, incredibly parched at any given moment) as I found scent did not hold well here otherwise. It was extremely long-lasting (over 16 hours and was still detectable as a skin-scent) with heavier sillage and projection for the first few hours; it was definitely a scent that wafted up as I walked, even just dabbed on my wrist.
Subjectively, I found the raspberry opening to be interesting, as they're one of my favorite fruits, and I don't know that I've tried a fragrance that had such a blast of raspberry before (possibly a body wash, many, many moons ago). That being said, cherry-almond and honey are not notes that I gravitate toward, and those were definitely the star players in this scent. I can easily see why others rave about it, though, based on seeing how many love gourmand scents.
Available Sizes
50 ml for $250
50 ml (refill) for $200
Where to Buy