Morganite
Auric Morganite Glow Lust Radiant Luminizer ($45.00 for 1.13 oz.) is a light, peachy beige with warm undertones and a soft, luminous sheen. It had very fine pearl that looked more like a sheen than a shimmer, and the finish had more of a dry down so it looked skin-like but not dewy.
It had "adjustable" coverage was described; it was sheerer when mixed in with foundation but could be more medium to semi-opaque coverage applied as a standalone highlighter on the high points of the face. The consistency was smooth, fluid, and had good glide without being too thin or overly slippery; it actually felt more like a liquid-cream hybrid compared to most liquid luminizers I've tried over the years.
The product applied well over bare skin and over foundation (as it wasn't prone to lifting it up), and I didn't have any issues mixing it with moisturizer or foundation as it didn't impact longevity. On its own, it lasted well for nine hours before fading a bit.
FURTHER READING: Formula Overview for details on general performance and characteristics (like scent).
Formula Overview
$45.00/1.13 oz. – $39.82 Per Ounce
The formula is supposed to have buildable coverage so it can be used "alone" or "blended" with skincare/foundation or "used as a highlighter on top of foundation."
The consistency was creamy, slightly thicker than a lot of liquid luminizers (but not heavy or overly thick), and it seemed more pigmented in its base compared to other liquid luminizers as well.
It had very fine pearl throughout that added luminosity and a subtle-to-light glow to skin with light dewiness. The shimmer was nearly undetectable when applied and diffused as a standalone product but still delivered a noticeable uptick in glowiness to my skin whether used alone or mixed in.
It was easy to mix in with moisturizer, primer, and foundation, and it also worked well patted on top of the high points of the face, whether my skin was bare or it was on top of foundation. I didn't have issues with it lifting up my base products–set and unset–when applied on top. It dried down for the most part, retained light dewiness to the eye, and wasn't tacky.
As a standalone highlighter, it wore well for nine hours before fading a bit, and I didn't notice any impact to longevity when combined with base products.
It felt more like a cross between Charlotte Tilbury's Hollywood Flawless Filter (which is thinner, a little runnier in comparison, and has more pronounced pearl/shimmer) and Natasha Denona's original Face Glow formula (which was a thicker, cream consistency that squeezed out of a tube and was very glowing but not as visibly shimmery).
The reality is that if you're someone who mixes these types of products with moisturizers or foundations, differences get more and more minimized (as they tend to sheer out, as they are supposed to). I wouldn't expect that if you're still working your way through something else and enjoy that that you'd have to run to get this, but it is certainly worth trying in the future if you like the idea of a subtler sheen but like this type of product.
Browse all of our Auric Glow Lust Radiant Luminizer swatches.
Ingredients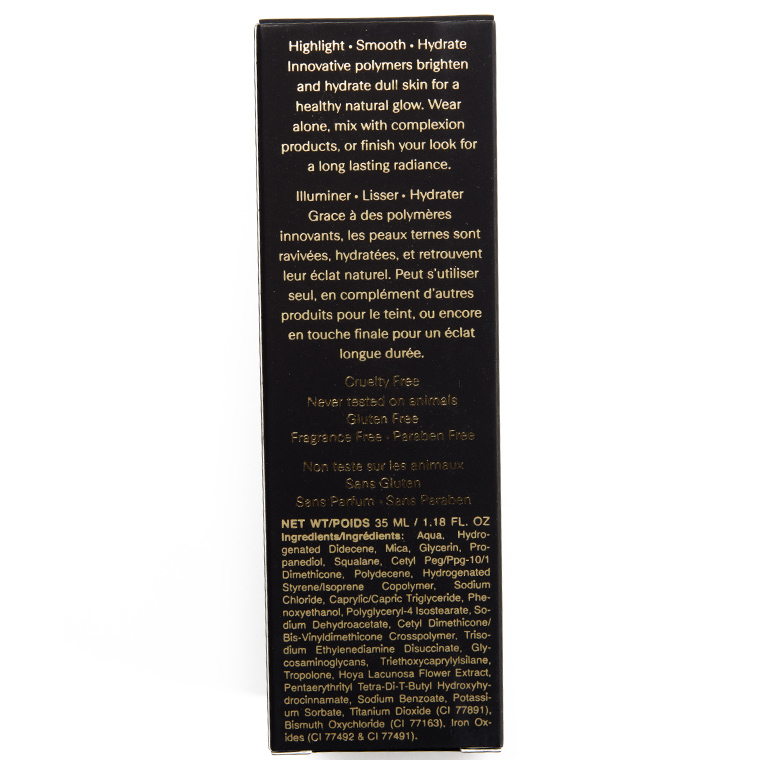 We hope you'll consider supporting Temptalia by shopping through our links below. Thanks!