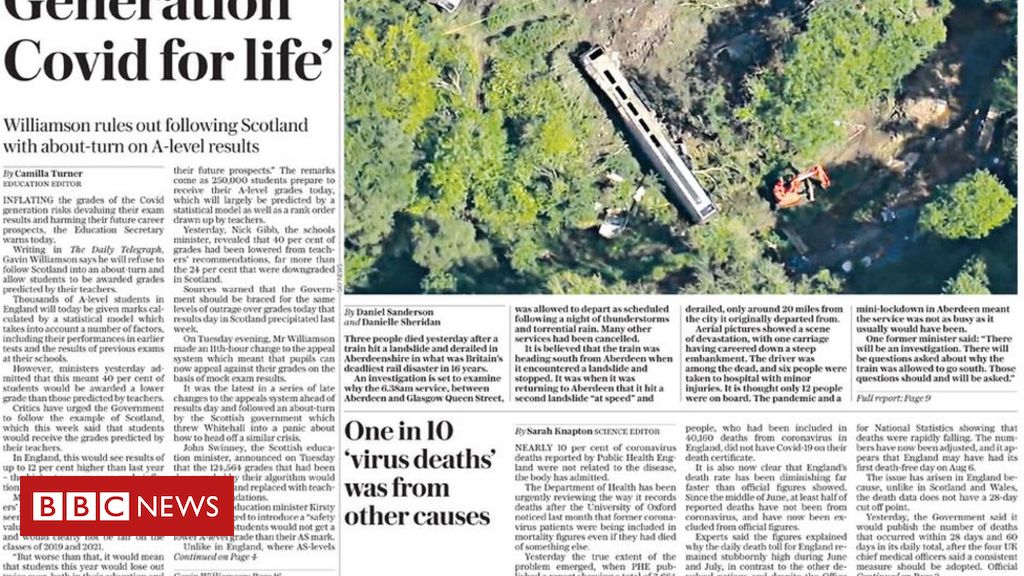 Dramatic pictures of the train derailment in Aberdeenshire are on most front pages.
The Daily Telegraph says the investigation is set to examine why the service was allowed to depart as scheduled following a night of thunderstorms and torrential rain.
According to The Times, an official report published last month said Network Rail's plans to address climate change and extreme weather were "not keeping up with the frequency and severity of these events".
Several papers lead with the row about the way exam grades in England will be decided.
Ministers braced for grades 'backlash'
"Ministers braced for backlash as teachers despair at A-levels fiasco", is the Guardian's headline. It says pressure is mounting on the government to institute a fairer system or face fury from students.
If students were hoping that ministers would follow Scotland and allow them to keep the grades predicted by their teachers, then Education Secretary Gavin Williamson makes clear in the Daily Telegraph that such a move would not be fair to the classes of 2019 and 2021.
But The Times has better news for students – saying universities are ready to rip up their admissions rules for this year. According to the paper, they have reassured ministers that they will "soften" the grades they normally require for entry to take account of the extraordinary circumstances that have led to exams being cancelled.
New home for the Sussexes
Elsewhere in the paper however, pupils are warned that the scramble for university places in clearing may be even more chaotic than usual this year as the operation will be run largely from the homes of admissions staff because social distancing rules have made it impossible to work from campus.
There's widespread interest in the Santa Barbara area of California on the Pacific coast – with the papers reporting that the Duke and Duchess of Sussex have bought their first home there.
According to the Sun, they and their son, Archie, made the move from Los Angeles 100 miles away in secret last month.
The Daily Express says with its white sandy beaches, palm-studded rolling hills and Spanish hacienda-style mansions, Santa Barbara is home to some of America's biggest stars, seeking a respite from Hollywood.
Finally, sharks may have a reputation as cold-hearted killers – but a study has found they are actually rather good at making and keeping friends.
The "i" reports that researchers tracked 41 grey reef sharks in the Pacific Ocean and found they were highly community-minded, forming social networks built on long-lasting friendships.
According to the paper, they spent their mornings together as large groups, dispersing throughout the day and into the night and reconvening with the same group members the following day.
But The Daily Telegraph strikes a note of caution – suggesting the camaraderie goes only so far. They don't call to each other or show affection or raise their young, it says.