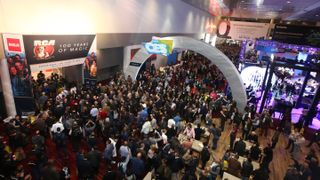 (Image credit: Consumer Technology Association (CTA))
CES 2020 leaks and rumors
CES hasn't officially started, but we've already heard about a few products that will make their glorious debuts at the show.
LG has leaped ahead of Samsung with what looks to be the first TV with '8K Ultra HD' resolution that's been industry-certified. That means the company can use the '8K Ultra HD' logo on its products, starting with LG's line of 'Real 8K TVs' that are set to be unveiled at CES 2020.
LG isn't stopping there: the company unveiled a new set of gamer-oriented monitors it will show off at CES 2020, including a 38-inch curved 4K display with an IPS panel that yet manages a 1ms response time. With 144hz refresh rate and Nvidia G-Sync compatibility, we're eager to see how other displays at the show compete with this offering.
On the phones side, Chinese company OnePlus stated that it will unveil a new mystery device at its own event during CES, which the company is dubbing 'OnePlus Concept One.' Given the phone-shaped silhouette in a photo promoting the reveal, we're expecting a handset – but all the fuss has us wondering if OnePlus is going to enter the foldable phone rodeo.
Of course, as a concept, it may never hit retail shelves. But given the other rumor about OnePlus potentially releasing true wireless headphones to rival the AirPods, we might see a lot more OnePlus at the show than ever before.
Another rumor suggests new Sony WH-1000XM4 over-ear headphones are on the way, a follow-up to the wildly successful WH-1000XM3 noise-canceling cans released in October 2018. While the rumor doesn't link the launch to CES, the timing could be ripe for a January 2020 launch – which makes CES the logical stage to unleash them.
When is CES 2020?
If you're going by the official dates, CES 2020 runs from Tuesday, January 7 through Friday, January 10, 2020.
That said, however, journalists will pour into the city a few days before that to cover the news conferences that kick off on Sunday, January 5 at 12 pm PST and continue through Monday and Tuesday. It's during that time we'll hear from Sony, Samsung, LG and several other electronics makers as they introduce us to new products at their on-stage keynotes.
Traditionally, the biggest of these keynotes happen on Monday as that's when LG, Samsung and Sony all hold their events, but some CES-related announcements will arrive starting on Sunday night as news begins to trickle out of the conference.
How do you get tickets for CES 2020?
Registration for CES 2020 is available now on the CES 2020 website, and are free for qualifying members of the media. For non-media folk, Early Bird tickets are available for just $100 if you just want access to the show floor from January 7 – 10 and the keynotes, though that price will shoot up to $300 starting on December 18, 2019.
If you want a bit more than the basic pass, you can buy the CES 2020 Starter Conference Pass that includes a curated list of events around the show's biggest trends for $700 or the Deluxe Conference Pass that includes 14+ partner sessions for $1,400.