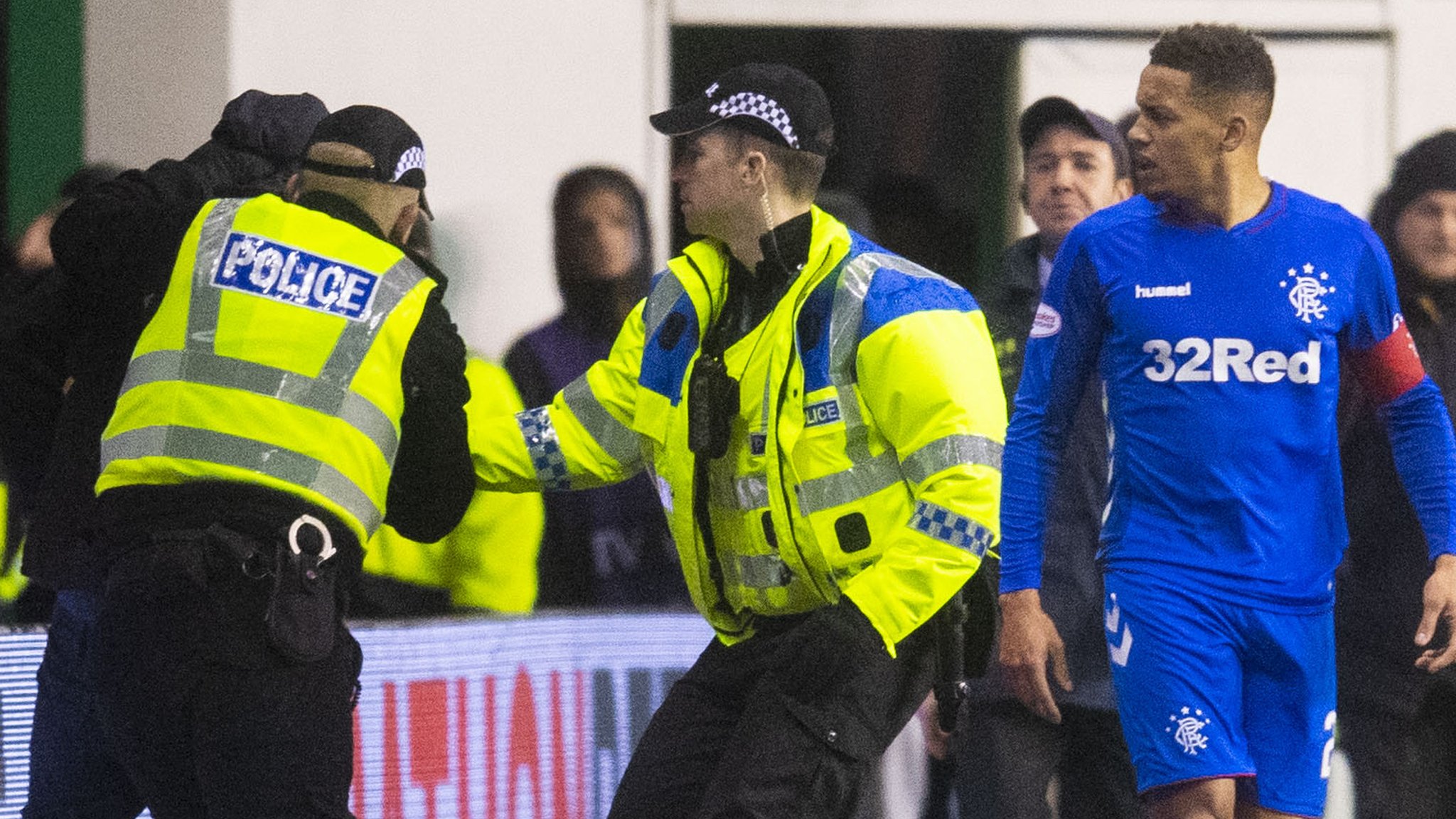 A man has been arrested after Rangers captain James Tavernier was confronted by a fan during his side's Scottish Premiership game with Hibernian.
The supporter attempted to kick the ball away from Tavernier as he moved to pick it up to take a throw in.
The two then laid hands on each other before the fan was led away by police.
A Police Scotland spokesman said: "We can confirm a 21-year-old man has been arrested in connection with an incident at Easter Road. Inquiries are ongoing."
The incident comes just six days after Celtic's Scott Sinclair was almost struck by a glass bottle thrown from the crowd at Easter Road during Celtic's Scottish Cup quarter-final win.
Hibernian chief executive Leeann Dempster told BBC Radio Scotland that the fan will be banned for life and that she will personally apologise to Tavernier.
"I'm raging, actually. I'm furious," she said. "They've embarrassed this club tonight again, it's completely and utterly unacceptable.
"What are we going to be talking about tomorrow? What is going to be on the back pages of the paper? What are you going to be asking me about? You're going to be asking me about this utter idiot.
"Who thinks it's alright to jump over an advertising hoarding? This individual will be banned for life. He's in custody at the minute and that's where he should remain as far as I'm concerned.
"This person and people like him are going to feel the full weight of what we, and hopefully Police Scotland, can deliver."
'It's just lunacy' – reaction
Former Dundee manager Neil McCann on Sportsound
It's just unacceptable, it's just lunacy. It's some idiot thinking he can enter the field of play. Stay away from the pitch, nobody wants to see you there. We should be speaking about how well Rangers have played in this match and some of the last-ditch defending from Hibs.