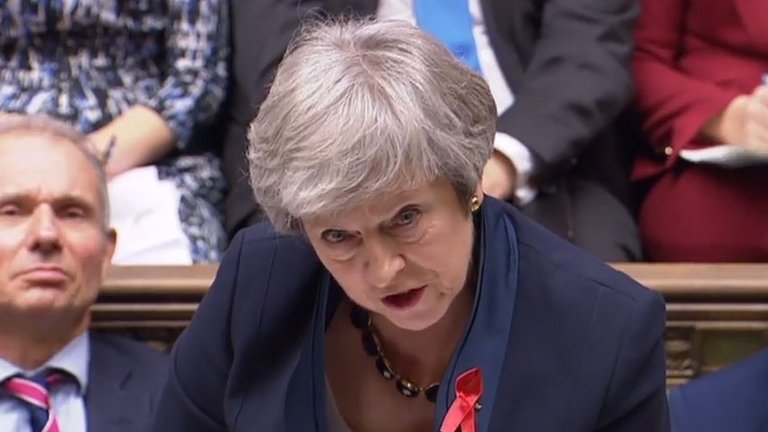 The UK is facing a "constitutional crisis" if Theresa May does not publish legal advice on her Brexit deal on Monday, Labour has warned.
The prime minister insists the advice is confidential – but critics say it could sink her deal if it is published.
Attorney General Geoffrey Cox will make a statement on it on Monday, ahead of five days of debate on the deal.
Some MPs believe the full legal advice suggests the UK could end up in an indefinite customs union with the EU.
MPs from all parties say the statement from the attorney general does not respect a binding Commons vote last month, which required the government to lay before Parliament "any legal advice in full".
Labour is planning to join forces with other parties, including the DUP, who keep Mrs May in power, to initiate contempt of Parliament proceedings unless the government backs down.
Shadow Brexit secretary Sir Keir Starmer told Sky News: "If they don't produce it tomorrow (Monday) then we will start contempt proceedings, this will be a collision course between the government and Parliament."
His shadow cabinet colleague Barry Gardiner told the BBC's Andrew Marr show the prime minister faced a "very serious constitutional crisis" if she refused, and the only answer was a general election.
According to the Sunday Times, Mr Cox told ministers in a letter the only way out of the Northern Irish "backstop" agreement would be to sign a new trade deal, a process which could take years.
The Commons debate on Theresa May's deal is due to get under way on Tuesday.
But if contempt proceedings were requested, it would be up to Commons Speaker John Bercow to decide whether a debate and vote should be held first.
Mrs May has always insisted that the backstop is a last resort and would only be temporary.
Ministers step up efforts to sell deal
The prime minister faces the fight of her political life to get MPs to back the Brexit deal she has reached with the EU, in a Commons vote on 11 December.
Dozens of her own MPs are against the deal – but ministers insist they can persuade enough of them to change their mind because, they claim, the alternative is a no-deal Brexit or "no Brexit at all".
On Monday, Home Secretary Sajid Javid will attempt to sell the deal to sceptical MPs by stressing that it will bring an end to EU free movement in the UK and replace it with a skills-based immigration regime.
"In just over a week's time, MPs will vote on the Brexit deal the government has secured. My message to them is this: let's take this chance to deliver an immigration system truly underpinned by public support," he will say.
Meanwhile, the SNP has said its MPs will support a bid to suspend the Brexit process "for a number of months" to come up with alternative proposals.
The party's Westminster leader Ian Blackford said he expects an amendment suspending Article 50 to be brought forward in the Commons before 9 December.
What about a further referendum?
On Sunday, leading Cabinet Brexiteer Michael Gove warned MPs there could be another EU referendum if they failed to back her deal.
But his words were welcomed by members of the cross-party campaign for a "People's Vote".
Lib Dem Brexit spokesman Tom Brake said: "The government has made a Horlicks out of Brexit and now one of its chief architects has admitted that the final say might go back to the people."
He said the Lib Dems and "many others" will "demand a People's Vote with an option to remain in the EU".
Latest on a TV debate
The war of words over a proposed TV debate on the Brexit deal continues, with Downing Street accusing Labour leader Jeremy Corbyn of "running scared" of a showdown with Mrs May.
No 10 confirmed there is still no agreement on the debate, due to be shown on Sunday, 9 December.
Mr Corbyn, who had previously preferred doing the debate on ITV, later said that he was prepared to accept Downing Street's preferred option of the BBC, provided it was a straight head-to-head discussion between the two leaders.
Downing Street claimed it had made efforts to "accommodate" Mr Corbyn's demands and was now urging Mr Corbyn to "agree to what's now on the table".
In a statement on Saturday, the BBC said its proposal includes a one-on-one debate as well as a chance to hear from "a wider range of voices".
But Labour said Mrs May was "running away from the scrutiny of a real head-to-head debate with Jeremy Corbyn," as she did "during the general election".
"Why else would she not accept ITV's offer of a straightforward head-to-head debate, as Jeremy has done?," said a Labour spokesman.
"Instead, her team are playing games and prefer the BBC's offer, which would provide less debating time and risk a confusing mish-mash for the viewing public."
Lib Dem leader Sir Vince Cable has said a debate between the Conservative and Labour leaders – both of whom support Brexit – would mean other views were being excluded.